Blog
4 ways to solve the challenges of using BIM in construction
December 14, 2022
Although BIM has been used in construction since the 1990s, the industry is still coming up against the same challenges.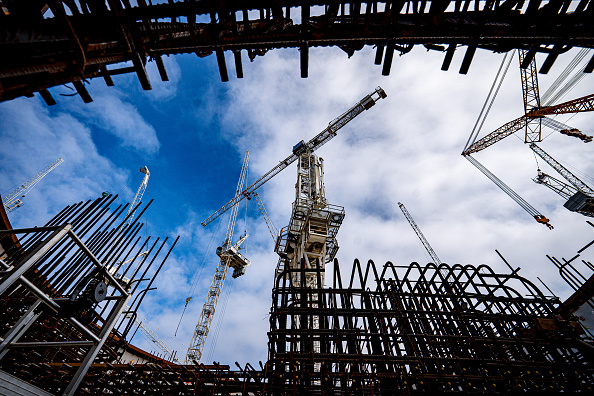 Only 20% of BIM data being used
Firstly, construction companies aren't taking full advantage of their BIM data. We estimate they're only using roughly 20% of it.
BIM data is currently being used for model coordination, 3D demos (cave VR), BIM on site (measurements, data picking, AR, 2D, 3D), and 3D Site planning.
The data is being used for quantities (cost, purchasing, schedule, logistic, maintenance), installation follow-up, quality control, annotations, and real estate management, as well as simulation and analysis.
However, construction companies are only scratching the surface of BIM data's full potential.
Why?
Largely because there are lots of BIM generalists and very few specialists in the field. Plus, decision makers distance themselves from the tech as they don't understand it or how to use it.
BIM data is often unworkable
In addition to the above, in the last decade, working first hand with our customers, we know the main reasons why data isn't being used effectively by construction companies is because:
The data quality is often poor – there are too many demands with tight schedules for modellers (architects and engineers) to response to.
The model data isn't consistent – it comes from multiple sources, places, design disciplines, and different applications. Because it's not standardised – it's hard to use effectively.
Construction projects are always unique with multiple variables.
Industry's response
During this time, we've seen multiple attempts to address these challenges – software advancements, new regulations, and data requirements.
There are now more BIM requirements, more statutory regulations (such as COBie in the UK), as well as an import alliance IPD and tact systems to support, manage and control projects.
However, these measures have created their own secondary challenges. Rather than solving the original problems – they've just created a new set.
4 ways of solving the challenges of BIM
The good news is there is another way! Hundreds of construction companies around the globe are using Simplebim's technology for:

✔️Standardizing data from IFC models
✔️Simplifying & automating IFC
✔️More accurate forecasting, budgeting & resource planning
✔️Cost estimation
✔️Handover & maintenance
Plus, they are using Simplebim's four processes we always recommend, as follows:
1. Reduce information requirements from designers and architects
Instead of demanding lots of information from designers and architects we believe you only need to focus on the top three to five requirements (the critical information will depend on the design field and use cases).
The identity information of each object and a couple of other items connected to it are the most important things to collect. With this information you'll be able to generate more information later on down the line.
This way, you shrink the demands placed on designers and architect, but you don't get any less information.
2. Standardise and organise the 'selected information'
Always organise the values in the same way so that the data structure is easy to use. Create a property set, which is always the same, as it makes it so much easier to use and check.
3. Tailor and enrich the data
Once you have selected information, standardised and checked it, then you can enrich it. At this stage you can add additional information, such as groups, locations and new objects. That way the model can be tailored to different use cases. The data can now also be automated, saving hundreds of hours of manual work.
4. Filter the data depending on end user need
With new grouping information and/or objects there are new ways of filtering data – different users can select the data they need. For example, a purchaser will have a different way of grouping data than a scheduler or a cost estimator or quantity surveyor.
At this stage you're able to generate groupings without asking for more information from the designers/architects/MEP engineers.
Now end users can identify which objects belong to which location, plus which quantities are needed by location.
Once steps one, two, three and four are complete, and you have a lighter version of IFC … then it opens up the possibilities of how to use BIM data more effectively.
Training all stakeholders to use BIM
As the data in the IFC is the same, it possible to create a standard 3D user interface and train all stakeholders within the construction cycle to use it.
Currently, BIM usage is directly dependent on an individual and their capabilities of using BIM in that specific project. Projects are heavily reliant on their individual skills.
But by standardising the data you can upgrade all users' BIM capabilities in all your projects. You'll no longer need to rely on a super BIM expert to get the most out of it – basic BIM skills are good enough.
And, because the data's always the same you'll be able to create a standard training video. So, instead of trying to train colleagues individually – training can be done on-demand – which is a huge benefit and cost saving.
A totally new way of controlling the project
Once IFC data is standardised it opens up totally new possibilities for decision makers, who may have previously avoided BIM.
In the early phase, design managers and cost estimators can now compare choices presented to them by architects. They'll be able to make earlier and bigger decisions before the site work has even begun.
Using the newly standardised BIM data they can see the differences between quantities, easily compare key figures such as: how much floor space by square meters there is compared to façade square meters; how much rental area compared to floor area. They can see changes between versions and the impact this has on quantities, cost and time.
Identify changes to models as and when they happen
For example, large scale builds, such as a hospital, have so many variables happening at the same time. There may be 15 architects and 10 structural engineers creating models and changing designs and the plans – delivering new models to the project each week.It's almost impossible to follow what's happening and identify what changes have been made.
However, using Simplebim technology, you can use Power BI to create an analysis view port for each of the different stakeholders on the build.
Each will be able to see the changes made, such as locations added, new quantities etc., and can spot the changes and understand why they've happened. It's a much clearer and faster way of finding out before something bad happens.
Combine BIM data from other systems to create a birds' eye view
The ultimate use of automatically updated BIM data is to combine it with different automatically updated systems' data such as cost, quality, schedule, safety etc. enabling decision makers to have a new birds' eye view to spot trends and confidently forecast more accurately. The possibilities are endless…
***
If you're a BIM professional looking to unlock the full potential of BIM for your organisation but need help with these challenges, why not get in touch with our knowledgeable team and book a demo or speak to us about our managed services?